Rooms
Our Apex Haymarket Hotel is the perfect place to hit the hay – pun intended – after a busy day, or if you're just looking for somewhere to stay. Situated in the city's West End, our compact and cosy, our rooms are perfect for short stays or commuting days.
Amenities
Queen Size Beds
42" TV with Freeview
Wi-Fi
Antipodes toiletries
City Room
Slightly smaller and size but just as big in comfort, each of our chic City Rooms boast a dreamy double bed and spacious bathroom filled with luxurious toiletries so you can relax in the right way. Want to double up? These rooms can also be set up with two twin beds.
Queen Size Bed
Room Size: 20 sqm
View Room
Small City Room
Our Small City Rooms are perfectly compact and have everything you need for a stylish stay in Edinburgh. Our rooms include all the comforts you'd expect, with a dreamy double bed to make sure you wake up feeling relaxed and refreshed.
Queen Size Bed
Room Size: 18 sqm
View Room
ECO ROOM FEATURES
To view details of some our eco-friendly room features, hover over the pulsing circles.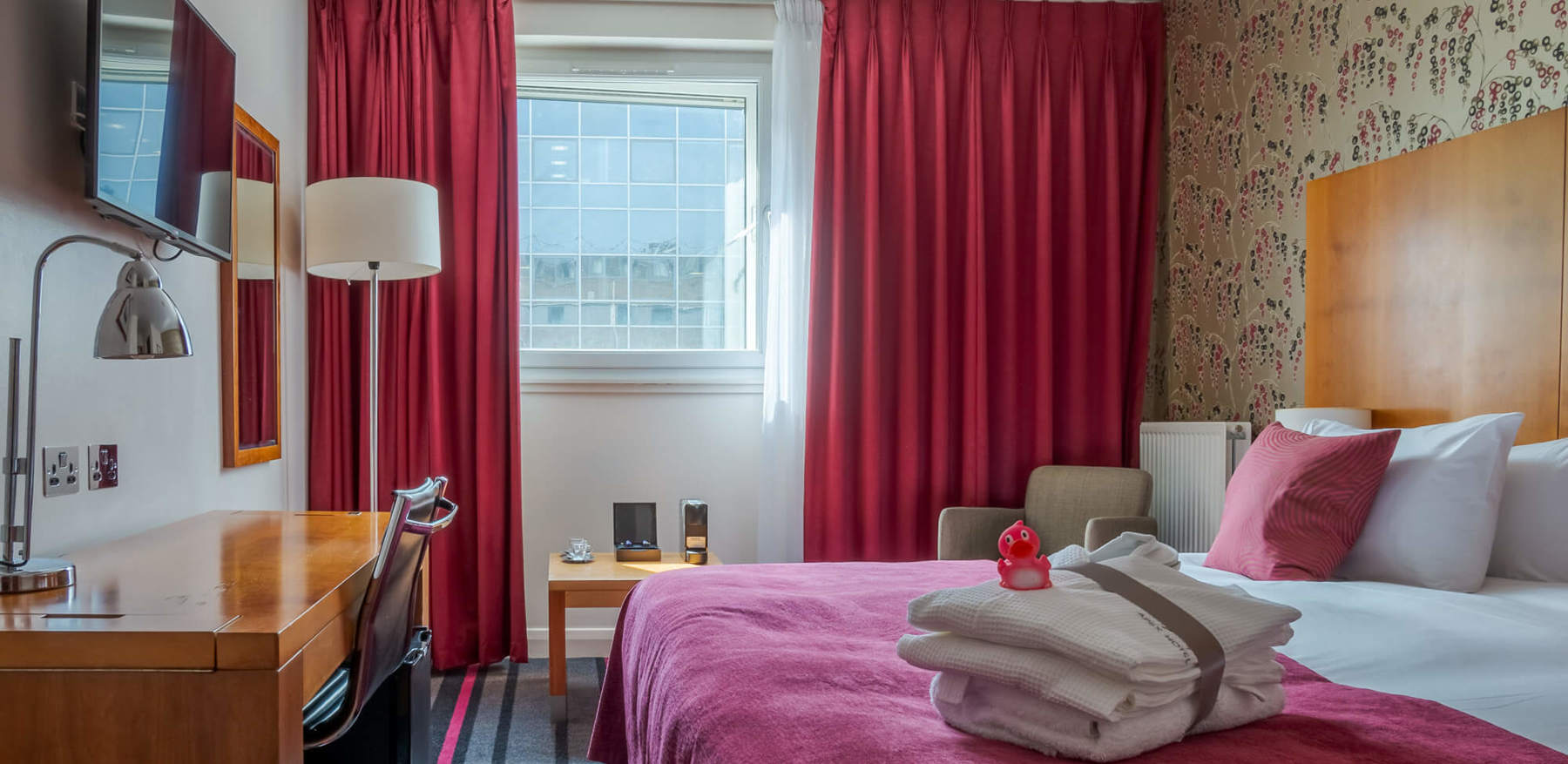 Stay green while you stay clean with our in-room 'reuse towel' policy.
Save the planet when you snooze - stay longer, reap the benefits of exploring your chosen city and we'll refresh your sheets on request or every few days if you'd like.
Lighting up for less! We're working towards 100% LED lighting by 2023, though around 75% of lighting is already LED.
Stay cosy whilst reducing consumption! Our Maintenance Best Practice plan helps us manage bedroom temperatures and reduce energy use.
We're not fuelish! Boxfish help us by measuring and monitoring our year-on-year energy use, they give us targets to work towards to become a greener business.