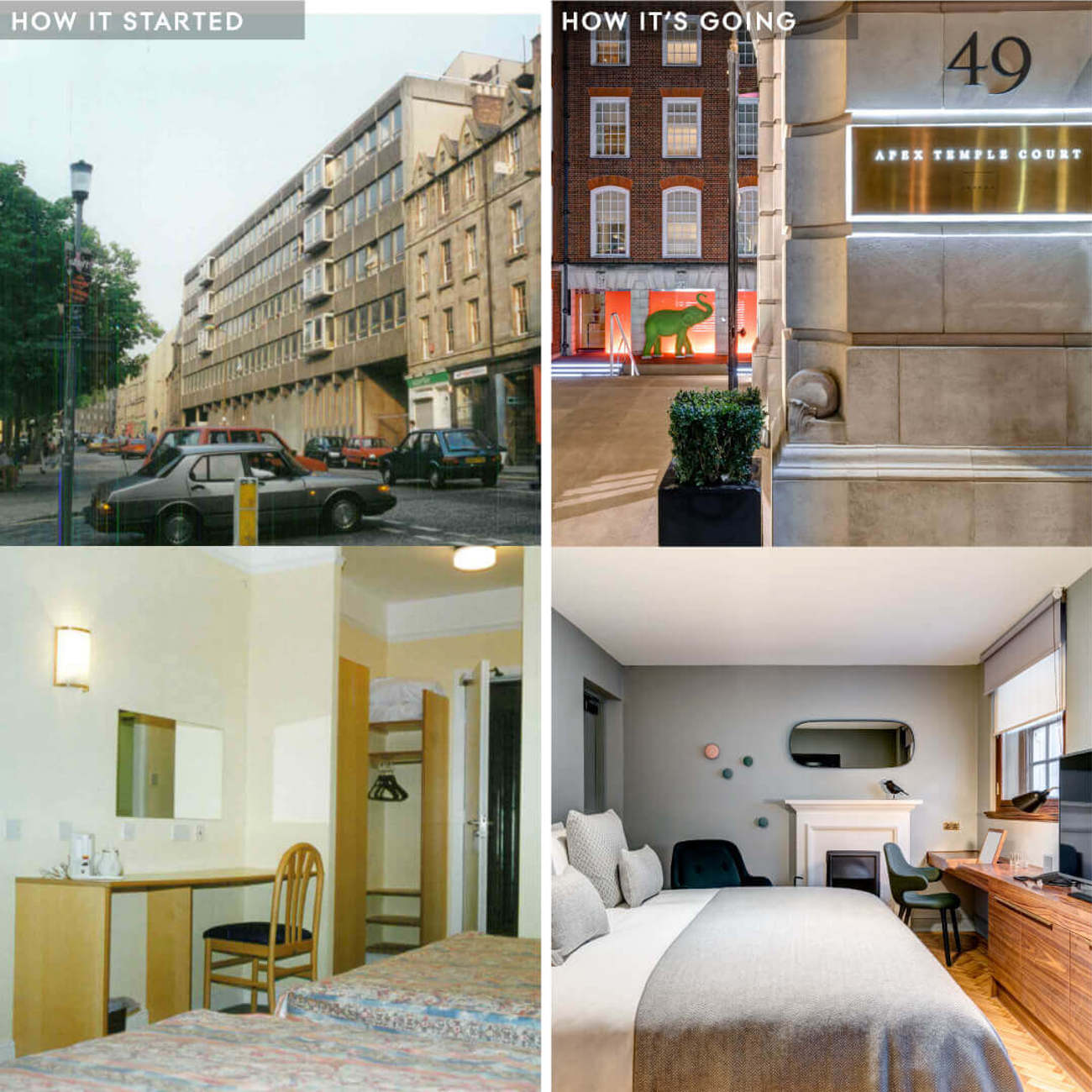 This week's PWC forecast report has grabbed the headlines with news of our struggling industry. The results unfortunately, were not surprising. The report describes 'the bleakest outlook since forecasting began'  and suggests it could take up to four years for our industry to recover.
Apex, similar to many, have been taken by the 'how it started vs how it's going' trend on social media, and it feels like as good a time as any to do our own. Just in slightly longer form!
In 1996 we opened our doors and welcomed our firsts guests. Roll on 22 years, a COVID pandemic, and we have experienced our biggest challenge to date, resulting in closing our doors in March this year. This was something never contemplated nor done before. As a thriving business, we are used to opening doors.
The uncertainty of what was going to happen with regards to COVID 19 made it difficult for us to forecast and our customers' behaviours changed quite dramatically. We found that people were booking on much shorter lead times, often within the next few days. This made it more challenging to forecast and plan.
It was not surprising that the RevPAR would have been heavily impacted because of the cancellation of the Fringe Festival this year. Historically that drives average rates in a city like Edinburgh up for almost the entire month. In normal times, this, combined with the influx of international guests (predominantly US guests) makes the summer in Edinburgh very busy. The behaviour and activity also has a ripple effect on other parts of Scotland too as they use Edinburgh as a gateway to a longer trip.
Over the years there has been a large number of new accommodation providers coming into the market which is great when there is the demand to service it. When demand is low however, everyone is looking to attract a smaller pool of guests and it becomes more challenging.
Albeit we have made the most of the Government's furlough scheme, and latterly the new job retention scheme, the demand has simply not been enough to retain many of our loyal employees. As a family business, it has been very hard to see these key employees go.
We all know that we are far from 'business as usual', but we are making headway with 'the new normal', and we must not lose focus on the end goal- that of recovery. We are identifying definite progress marketing to a changed client group. With very limited business travel and overseas quarantine rules constantly changing, there is no doubt that staycations will play an important part in the sector's recovery. The Apex group is fortunate to have hotels in the heart of five of the UK's most vibrant cities- thus a great fit for the UK's staycation audience. This is especially pertinent in the winter months when city breaks are attractive for families, friends and couples seeking a change from tiered lockdown life.
In addition we are excited to be launching a new product soon which will be aimed at the work from home market. We will be making use of our conference and events spaces, and even our rooms, throughout this 'new normal'. Knowing that people hunger for new experiences, we shall up our game when it comes to the whole guest experience in house.
At the easing of national lockdown earlier this year when we re-opened our doors, we launched Apex Assured. This is our promise to our guests that they can be assured of a safe stay with us, that is memorable for all the right reasons. Our enhanced cleaning procedures mean all frequently touched areas across the hotel get some extra TLC, and we're totally clutter free. Our staff are all wearing PPE and we have additional screens and hand sanitiser stations throughout the hotel. We also promise to be more flexible with bookings as we know plans change, and we always offer our direct guests our best rate guarantee. We are getting fantastic feedback from guests who have stayed with us since we re-opened, telling us they felt safe during their stay, thanks to these extra measures we have put in place.
Of course, our businesses need continued support, and keeping VAT rates low and business rates at zero needs to continue. Clarity around what local lockdown rules and regulations will mean for the sector can help us plan-to a certain extent.
So, do consider this is an honest statement of how it's going. We hope you consider this a statement of hope. We know the sector will recover, and it's thanks to the hard-working ethos of those who are at the heart of Apex that we will get there. This is a viable industry and we need to be ready to bounce back. We must keep tourism attractive, for our current market but also for when that international demand returns.