It's got Fashion Week, it's got Buckingham Palace, it's got 71 Michelin-starred restaurants, and it's got some of the most extravagant accommodation in the world. Lovers of luxury flock to London year round to indulge in the most lavish experiences the capital has to offer. 
We've noted down some of the city's most show-stopping suites for those of you with a taste for the finer things in life. So if you like going to sleep in silk, waking up in Egyptian cotton and drinking Champagne with breakfast, take a look at our list of London's best suites and indulge in a little hedonistic daydreaming...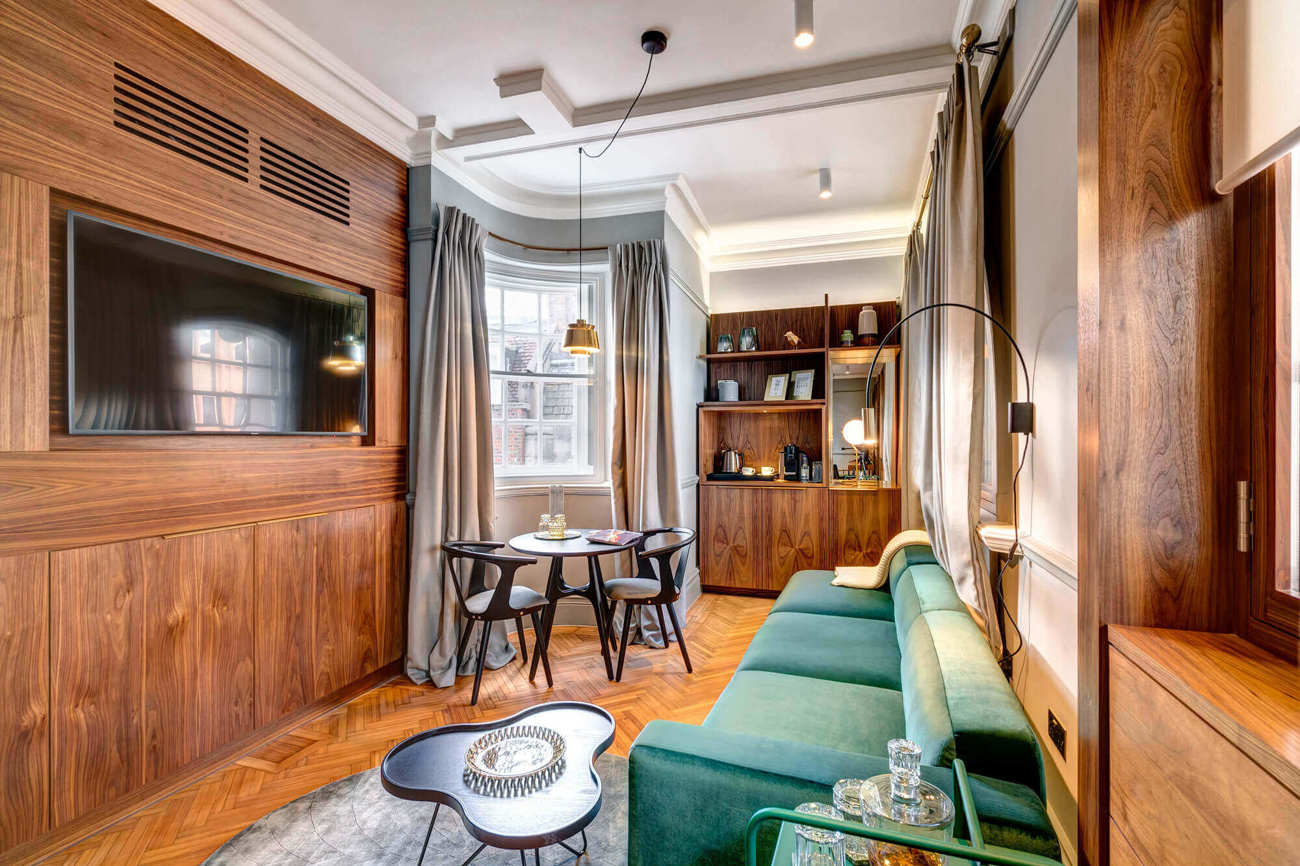 Temple Suite and Grand Suites at Apex Temple Court Hotel
Following a £6 million extension into the Grade II listed building next door to our Apex Temple Court Hotel, we now have 5 luxurious suites on Fleet Street. Our luxurious offering includes four Grand Suites and one showstopping Temple Suite (that's really more like a luxury London apartment).
Our suites are beautifully adorned with bespoke furnishings and luxury linens, and boast the building's original fireplaces that have been restored to complement the interiors. These suites allow guests to experience a new type of luxury in the form of a completely bespoke stay. If you stay here, you'll get a private in-suite check-in, access to a personal concierge and a personalised mini-bar stocked with your favourite drinks. We guarantee once you've stayed you'll never want to leave!
The Grand Suite at Artist Residence
Described on their website as "eclectic luxury", Artist Residence London is a small boutique hotel that offers a unique take on luxury in the form of their Grand Suite. Boasting a four-poster bed, a freestanding bath, and modern artsy decor, this suite is perfect for those who desire the grandeur of luxury living but wish it was a little bit cooler. Think Peckham style meets Chelsea opulence.
Suites at Blakes
The Prague suite at Blakes is decadence upon decadence upon decadence. Described as "glamorous luxury like no other", this space lives up to its description, with a grand four-poster bed draped in silk, bedrooms adorned with velvet furnishings and a marble bath that would make for one decadent dip in the tub. This suite is fit for a king, a queen and any other royal for that matter.
Grosvenor House Suites by Jumeirah Living
Located on Park Lane, the Grosvenor House Suites by Jumeirah Living are more serviced apartments than they are suites, but they offer all the luxe amenities you would expect from a 5-star hotel. With a guests only Atrium, a 24/7 Concierge service and a view of Hyde Park, these suites encompass what true luxury living is at London's most exclusive address.
Suites at Corinthia Hotel
The Corinthia has a long-standing reputation for having a 5-star product but their new suites, particularly the Garden Suite, take luxe to a whole new level. Designed with the quintessential British garden in mind, the suites feature a light, modern interior and overlook a private courtyard so guests can immerse themselves in the great British outdoors from the comfort of their luxury residence. The perfect pied-à-terre for those who like to summer in London.
We hope you'll join us for a suite stay at our Apex Temple Court Hotel soon!