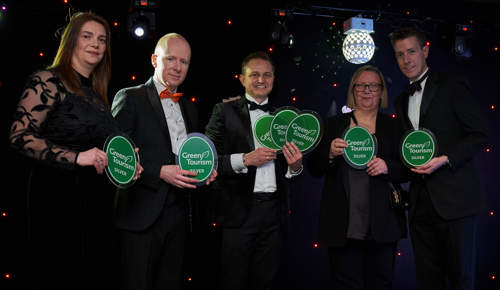 Our Apex City of Bath Hotel and Apex City Quay & Spa Hotel were both given this prestigious award in 2022 and the remaining seven hotels in Edinburgh, Glasgow and London received their accreditation this February. 
At Apex, sustainability has always been high on our agenda. Having demonstrated our ongoing commitment to responsible, ethical, and sustainable ways of working, we're thrilled that our efforts have been recognised and awarded by Green Tourism.  
We've gone green in many of our practices including our recent switch to 100% renewable electricity from Scottish wind farms, the introduction of a zero-landfill policy, the removal of single use plastics and ensuring that all produce is sourced locally to reduce transport emissions. 
Also, our new and exciting plans to change our drinking water to Belu means that we can bottle our own water at site and reuse glass water bottles for bedrooms, restaurants, bars and conference areas – this will take a whopping 600,000 bottles out of our waste system! 
We've also put in place a long-term social engagement and community outreach programme, which includes support for a range of national charities. These include cancer support charity Maggie's Cancer, and Mind, who provide mental health advice and support. As well as this, each of our hotels support local charities and organisations throughout the year. 
Lisa Wilson, Lead Assessor, Green Tourism said: "Apex Hotels have done a fantastic job in achieving the Green Tourism Silver Award for all nine hotels following their first assessment. The team displayed an excellent understanding of sustainability as well as an awareness of the opportunities and challenges associated with running a responsible business. This along with the dedication, hard work and creativity of the on-site teams at all the hotels has been an important factor in achieving the award. 
Across the hotels, the teams performed particularly strongly in the assessment categories of Awareness, Community, Health & Wellbeing, and Experiences. Huge congratulations to all the teams. I am sure they will only continue to progress and improve their score as they continue their sustainability journey." 
Michael Stott, Commercial Director, Apex Hotels said: "The Green Tourism Awards are the industry leading accreditation for sustainability, environmental and good governance practices across the tourism sector. We are delighted and extremely proud to be one of few independent hotel groups to achieve Silver Green Tourism accreditation across all our hotels. 
Green Tourism's independent assessment brings reassurance to our guests and members of staff that our sustainable tourism practices are evidenced and authenticated. It also represents an important step in our ongoing journey to contribute to the happiness and prosperity of our local communities, introduce sustainable and environmentally friendly business practices and be an open and inclusive hotel group for all." 
 Wondering what's next? We're going for gold!