1. What do you love most about your job, and why?
My career in hospitality started when I was 18 years old when I started waitressing in local restaurant. I loved interacting with people and finding ways to make them feel at ease, well looked after, and pampered. Later in my career, I worked as a receptionist and then fell into the department of housekeeping. Since working as housekeeper, I've been able to see how each part of the department and each member of staff play an individual but equally important role in the bigger picture, which has been eye-opening. Whether that's to come together to help people to celebrate a birthday, anniversary or just to add a special touch to their stay, we as a team of staff play crucial part in delivering this. The teamwork is amazing, although everyone works independently, it's incredible how we all help each other on busy days.
2. What is the most unexpected thing a guest has requested from you/asked you to do for them?
In hospitality we like to throw in some 'wows' now and then to help people to create memorable experiences. Recently, we had a Spanish visitor who unexpectedly decided to propose to his girlfriend and asked for our help! He casually came to the desk and asked to surprise her without having a plan. Reception took a request, and we made up the room and created swans out of towels and wrote "Will you marry me?" in Spanish. These occasions usually are arranged in advance, but we will do all that we can to make such a big question as special as we can. Now an engaged couple, I think it's fair to say they were extremely happy.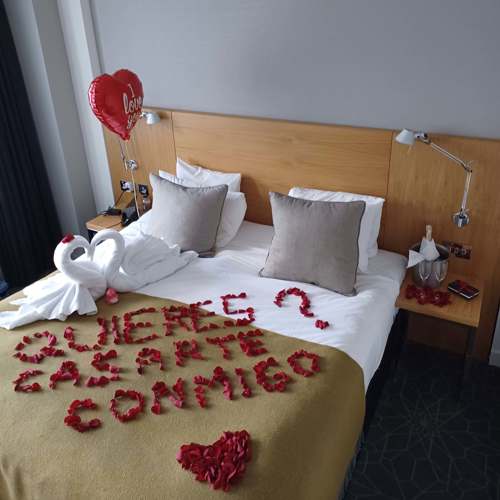 3. What is the funniest/weirdest thing that a guest has left in their room?
The housekeeping department goes through a lot of lost property every month and there's various items that people leave. I can't think of any specific item that we found but that's unusual, but what I find strange is when people forget their most personal valuables like wedding or engagement rings and kid's teddys. 
4. What special extras do you enjoy putting in the guest rooms?
Each day, we review the details and notes that we have for guests arriving. For example, those who have paid for special packages like the birthday, anniversary, or romance package, and so on. However, we do try to 'wow' all our guests, even the ones that opt out of our add-ons. Most recently one of our guests, who was travelling with children, left an elf on the shelf in their bedroom. Our housekeeping supervisors collected various ducks and created a scene. The 7-year-old came back to find naughty elf sitting on bed with Bobby, Sprout, Floyd and Rennie enjoying some movie and popcorn.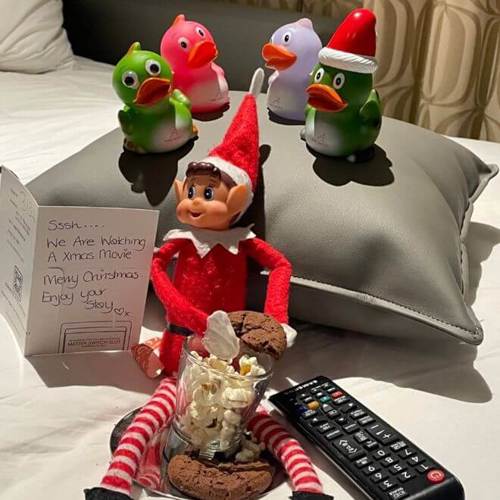 5. What is your favourite kind of towel art to create?
Swans are the symbol of beauty, fidelity and loyalty. I love leaving a couple of swans in a room with guests celebrating anniversaries, honeymoons or wedding nights. We do get quite a few birthday celebrations and for those I like to leave a towel duck.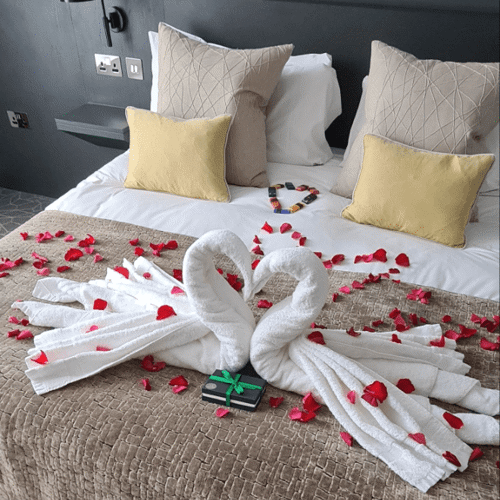 6. If you could work anywhere else in the hotel for a day, where would it be, and why?
As mentioned, I've worked in multiple departments before. I'd probably like to get involved more in the food and beverage department as I believe that it would challenge me and that there would be a lot of opportunity for personal growth in this area. I enjoy a job that keeps me busy.
7. Who's the most famous person you've met through work?
Apex Hotels host a lot of famous people from sports, media and entertainment industries. The most famous person I've met recently was well-known politician and labour party leader, Keir Starmer, who was attending an event in our Apex Grassmarket Hotel.
8. When you're a guest at a hotel, what are the extra special touches you like to find in your room, and why?
I love to travel and do so frequently. When staying and eating in places it's easy to criticize but I've learned from personal experience that hospitality in general is very hard-work, and more often than not, everyone is trying their best. So I appreciate the small things, like meeting basic requests. If I need anything special in the room for my kids or would like to request something special or specific, I always try to reach out to hotel prior to my arrival so they have a chance to prepare. In terms of surprises and extra special touches, on our honeymoon we got a surprise box of chocolates and card in the room which I'll never forget. It was a lovely touch from the hotel to take it upon themselves to organise something and this personal experience is something that I try to pass on to our guests whenever I can.