Name: Carys Potter
Role: Spa Therapist Apprentice
Hotel: Apex Waterloo Place Hotel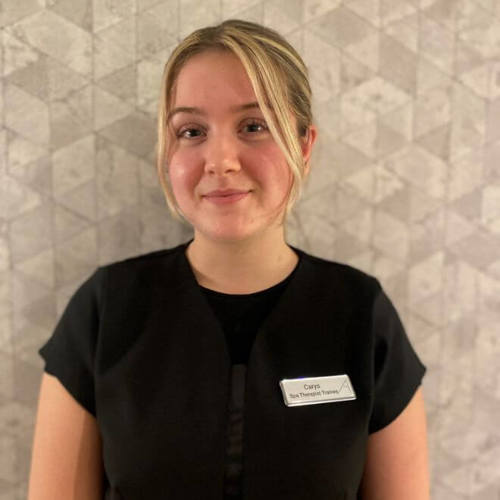 What is your typical day at Apex like?
A typical day at Apex is busy but very enjoyable. I'm well supported and enjoy meeting all the different guests. Sometimes I'm more front of house, providing robes and tours of the facilities and, on other days, I have mock guests so that I can practice all my newfound skills.
What's the best part about your role?
The best part about my role is meeting new people and welcoming them into the spa alongside working in an environment that I love.
Having a scholarship means that I'm able to learn on and off the job. I attend college to learn key skills and practices on how to be a therapist and then am able to put my knowledge to the test in a real spa setting with the support of the Yu Spa team. Every few weeks I learn a different treatment and then get to practice on team members. I have just passed my nail courses and moving onto facials and massage. I hope that this pathway will lead me to be a top-class therapist. 
If you could pick any role at Apex Hotels, what would you do?
I would pick something within the food and beverage department as this is an area I know a lot about due to previous work experience. This is also an area that I enjoy being a part of as it involves meeting new people and providing them with a great service.
What's the best piece of advice you have ever been given?
Never be afraid to make mistakes.
What is your favourite way to relax?
My favourite way to relax is going on a walk with my two dogs or reading a book.
If you could have any superpower, what would it be & why?
I'd like to be able to see into the future because I'd love to know what life has in store for me...
What's your favourite bar of chocolate?
My favourite bar of chocolate is a Daim bar because it's the chocolate bar that my mum and I have always loved. 
What has been your most unusual day at work?
Although I knew I'd love it, my first day at Yu Spa was probably the most unusual day at work as I was working in a new environment along with meeting many new people.
Don't forget to look out for Carys when you next visit! To read more about our brand-new beauty scholarship, click here.