Day one
Morning
Check in to Apex City Quay Hotel & Spa, our hotel near RRS Discovery. Our friendly staff will keep your bags safe until your room is ready in the afternoon. Start your trip exploring some of the attractions on our doorstep. Just across from the hotel you'll find the City Quay which is home to the Frigate Unicorn. It's one of the world's most remarkable historic ships and Scotland's only wooden war ship! Take a step on board and explore the decks.
After a quick visit, head to the waterfront, just a 5 minute walk. RRS Discovery stands tall to the left of the main road (across from the train station). The RRS Discovery tells the story of discovery that Captain Scott made from Dundee on his Antarctic expedition in this iconic ship. Explore what life was like on board and how the ship survived such poor conditions.
Afternoon
After a morning packed full of history, an afternoon spent relaxing is just what you'll need. Head along the A92 toward Broughty Ferry where you'll find Dundee's coolest suburb on the River Tay. If the weather is good, you'll love the local ice cream shops and a stroll along the beach. If not, wrap up and pop into some of the boutique shops on the main street. Don't forget to stop for lunch, Bruach is one of our favourites.
Evening
Quayside Bar & Grill offers a wide selection of delicious dishes you won't be able to resist so pop down for dinner with amazing views of City Quay as dusk begins. After, we recommend Mills Observatory for a romantic evening. It's the first purpose built public astronomical observatory in the UK. Star gaze through telescopes or admire the views across the River Tay on a bright summer night.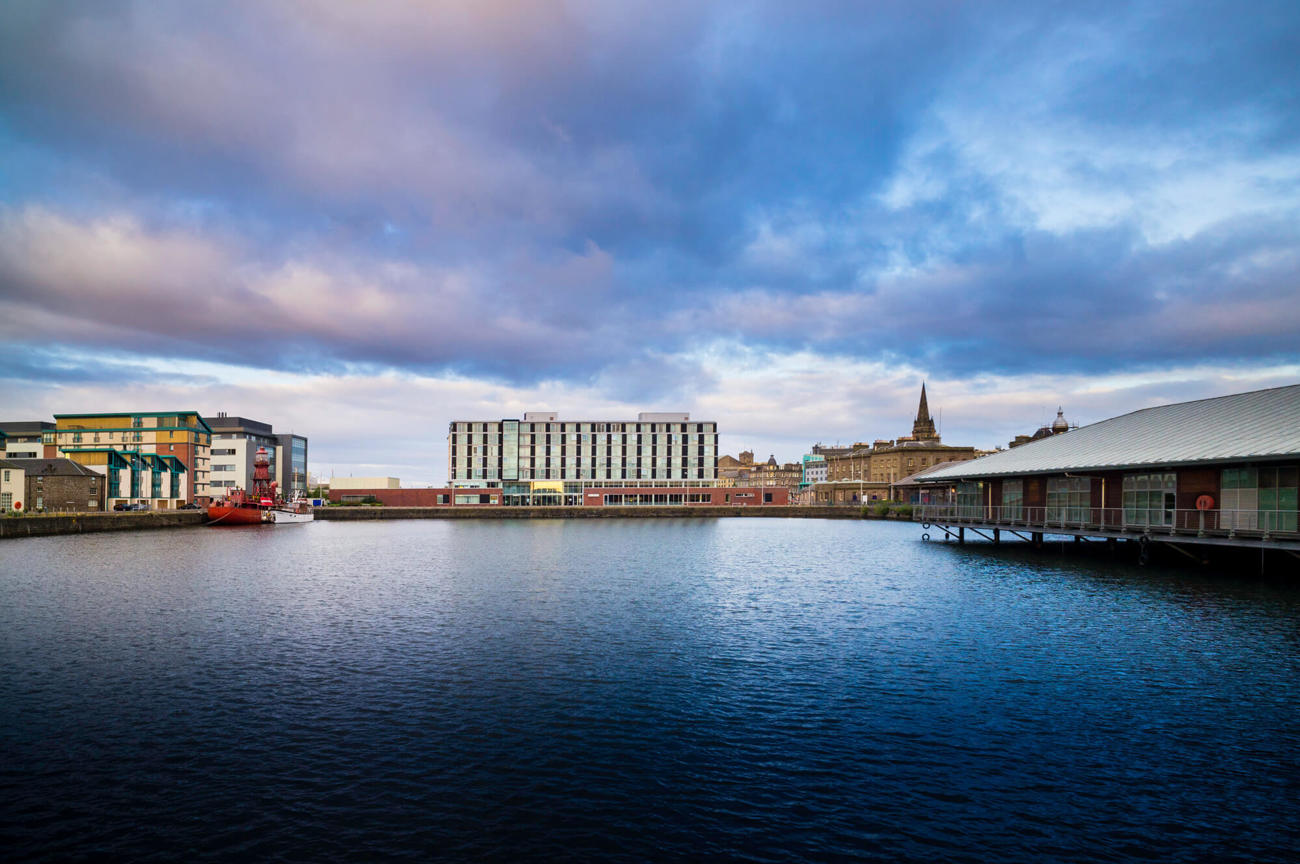 Day two
Morning
Wake up feeling refreshed with a long lie and fuel up with a tasty breakfast in-room. Our all-inclusive options mean you can tuck into your favourite cooked items or help yourself to our continental selection that includes croissants, yogurts and cereals - perfect for a big day ahead. If you like to start the day early, pop into Yu Spa for a morning swim or climb Law Hill for a refreshing and rewarding start.
Afternoon
Overgate Shopping Centre and the High Street are the main shopping areas in the city. Just a 10 minute walk from the hotel, you'll be in the heart of retail therapy. Treat yourself to gifts in Topshop, Debenhams, Next, Superdry or Office.
Evening
Shows at The Caird Hall are not to be missed. Book tickets to a theatre show, comedian, musical or tribute act to experience once of Dundee's best venues. The pantomimes at Christmas are always a favourite with us and there's normally something great for the full family - explore what's on here.
If you fancy something different, Dundee Rep Theatre is home to Dundee Rep Ensemble, Scottish Dance Theatre and Rep Creative Learning and boasts a schedule packed with theatre shows, dance, music and family events.
We look forward to welcoming you to Dundee for a dynamic city break soon!