Name:  Eve MacLeod
Role:  Spa Therapist Apprentice
Length of time with Apex: 2 weeks 
Hotel:  Apex Waterloo Place Edinburgh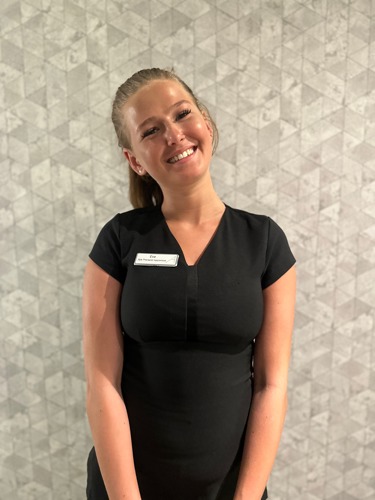 What is your typical day at Apex like? 
I'm the first point of contact for the guests at reception at the spa. I always introduce myself to guests and welcome them to Yu Spa while they fill out their health forms and pay for their treatment. I then show them to the relaxation room where they can unwind before being pampered!
If they have booked a full spa day, I show them to the facilities and let them know I'm here should they need anything throughout their visit. I also help the therapists prepare their treatment rooms.
What's the best part about your role?  
I get to interact with lovely guests. I love communicating with new people and getting to know them a little.
Also, with Apex supporting me with my studies and quest to become a beauty therapist, not only am I getting the education from my private scholarship with them, but I'm also getting hands on experience which is invaluable.  
If you could pick any role at Apex what would you do? 
I'd love to try reservations - I'm very personable and good at talking to people and also enjoy working with online systems.
What's the best piece of advice you've ever been given? 
It would have to be to live life for yourself and not for others.
What's your favourite way to relax? 
Getting a good massage or spending the day sunbathing. They both make me feel so peaceful and very relaxed.
If you could have any superpower what would it be & why?
 I'd love to be able to fly. One because flying sounds fun. Secondly because you can travel anywhere you want to in the world while getting to see all the pretty lights from all the buildings. It would be the best superpower for sure! 
Join us in wishing Eve all the best during her time with us. Make sure to say hello if you're popping in!