Inspired by authentic British cuisine, Head Chef of The Lampery, Marcello de Stasio – who boasts Michelin star training from some of Italy's most outstanding eateries – is always striving to create delectable dishes that make a truly memorable dining experience.
He's shared one of his most popular brunch dishes that's both a foodie's dream and super Instagramable. We invite you to try recreating this heavenly dish at home! Now the question is what will you put atop your pancakes?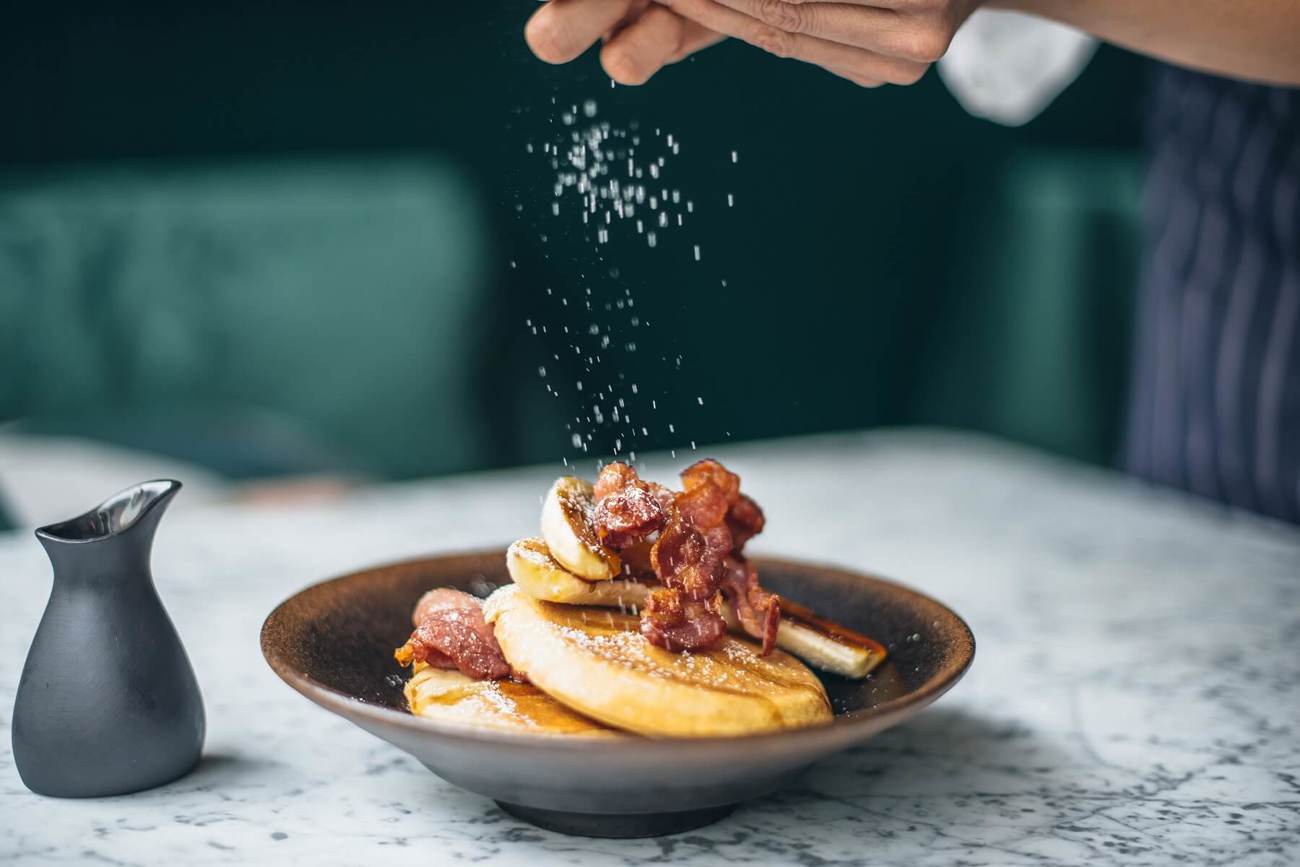 Ingredients
For the pancakes:
250g plain flour
1 tsp bicarbonate of soda
2 tsp baking powder
2 tbsp caster sugar
1 pinch of salt
500ml buttermilk
2 large eggs
50g unsalted butter, melted
Method
In a medium size bowl mix together the flour, bicarbonate of soda, baking powder, caster sugar and salt.
In a separate bowl or jug beat together the buttermilk, eggs and melted butter until smooth.
Add the buttermilk mixture to the dry ingredients, gently stirring to combine. Make sure not to overmix, as that will result in dense pancakes.
Heat a non-stick pan over a medium heat and grease lightly with butter. Using a ladle, pour the mixture into the pan, cooking until bubbles appear on the surface and the underside of the pancakes are golden brown, then flip over and cook for another 1-2 minutes or until the underside is golden brown too. Repeat this step with the remaining batter.
Now to add your favourite toppings and enjoy!
For the Toppings:
Finish off your pancakes with a dusting of icing sugar and add your favourite topping - maple syrup and crispy bacon, caramelised banana, mixed berries or is melted chocolate your no. 1 choice?
To make our signature crispy bacon:
Preheat the grill to medium-hot. Lay the bacon on a grill tray, lined with foil, and brush with maple syrup. Grill until one side of the bacon is crisp before turning over and brushing the other side with maple syrup and cooking until crisp.
To finish, stack your pancakes, dust with icing sugar then top them with crispy bacon and add lashings of maple syrup.
If you create this delicious dish at home make sure you share your Insta-worthy pics with us and tag us on Facebook, Twitter and (of course) Instagram.