Glasgow and Edinburgh are less than 50 miles apart but couldn't be more different. Both attract many visitors each year and each have a famous 'George'. But which should you visit? Read on to make your choice!
George Street Edinburgh
George Street is steeped in history and is one of the capital's main shopping streets. Running through the heart of the elegant New Town, the half-mile street runs parallel to the other main shopping street, Princes Street. While Princes Street is home to many high street and chain stores, George Street is more upmarket with an array of designer boutiques, restaurants, and bars. Full of grand architecture and statues.
Designed in the 18th century by Scottish architect, James Craig, George Street was intended to be a residential street but saw its houses turn into various commercial buildings throughout the Victorian era with many grand buildings designed by resident and architect, David Bryce including the Union Bank of Scotland which is now the popular Standing Order pub and restaurant and the striking bank buildings.
With Edinburgh fast becoming a hotspot for Hollywood, Fast and the Furious 9 was filmed on the street.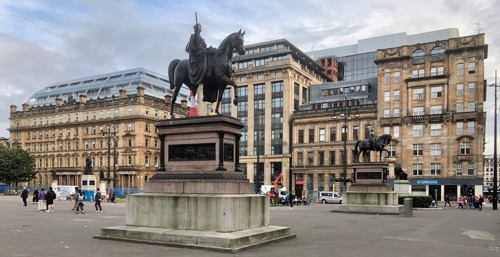 George Square Glasgow
Glasgow's 'George' was also built as a residential square and has been redeveloped over the centuries as the city's principal civic space. It's smack bang in the centre of the city and is overlooked by the stunning City Chambers. The square showcases an important collection of statues and monuments included Robert Burns, James Watt, Sir Robert Peel and Sir Walter Scott.
A good place to start the tour of the city, George Square has Glasgow's main war memorial at one end in front of the City Council Chamber and attractions such as the modern art gallery are within a short walking distance.
2011's World War Z starring Brad Pitt was filmed in and around the square.
But of course, Glasgow and Edinburgh are so much more than two areas named after an old king! Edinburgh is perfect for history fans, Scottish culture and Harry Potter whereas Glasgow suits those after music and nightlife with a modern, big city vibe.
Click here to check out our three Edinburgh hotels and here for Apex City of Glasgow.