Chosen from many well-deserving applicants with moving stories of wedding plans disrupted by the pandemic, Rebekah and James from Fife, were finally able to tie the knot in our Apex Waterloo Place Hotel in Edinburgh.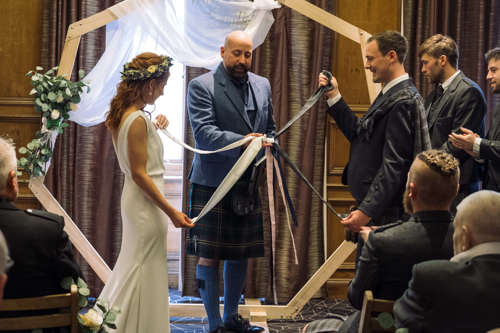 Rebekah, a Specialist Biomedical Scientist working in the Pathology Department at Ninewells Hospital in Dundee, explained that it was terrifying going back to work in a hospital environment not knowing what was to come and how to keep her family, and more worryingly her new born baby, safe.
Having been together for seven years and engaged since 2016, the couple were desperate to tie the knot in front of family and friends at their fairy tale Italian wedding in September of 2020, but the pandemic had other plans.
Rebekah said "The restrictions meant we couldn't be sure if the wedding would be able to go ahead or not, but we held out for as long as possible hoping that we'd be able to get married. Eventually we had no choice but to cancel the wedding in June 2020. With relatives due to fly in from all over the world it just wasn't going to work, but we were devastated." 
Coming full circle, the couple came back to be wed in the city where they had their first date, making it an extra special way to celebrate. It was our privilege to be able to be a key part of such a long-awaited, momentous occasion for the pair, a day that they'll cherish forever.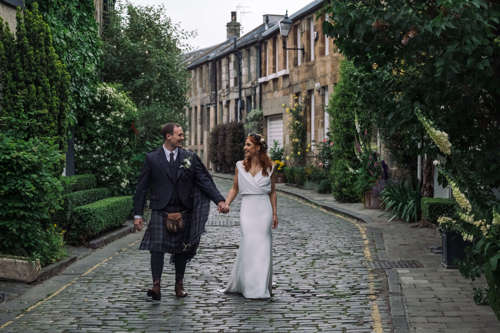 We treated Rebekah and James to a complimentary complete wedding package, including a three-course wedding breakfast, drinks, evening buffet and upgraded wedding night accommodation. In addition, the couple were gifted other wedding essentials from some of our trusted suppliers. The event was captured digitally by Andy Hamilton Photography, flowers were provided by Carolyn Designer Florist and the evening party was kept in full swing by Dougie Robertson from Buena Vista. No Scottish wedding would be complete without a piper and James A Nicholl made sure this wedding had the traditional Scottish soundtrack. The wedding cake was also especially designed and made for the occasion by our very own Food & Beverage Projects Manager, Susan Reid.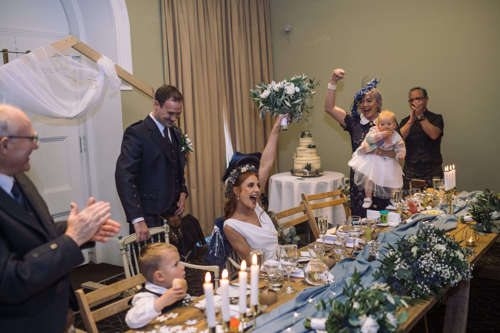 We'd like to take this opportunity to thank all of our partners and suppliers for helping the couple get hitched without a glitch.
Congratulations to Rebekah and James - we wish you a lifetime of love and happiness together.