We caught up with interior designer, Emma Franks of ISA, who is responsible for bringing our chic Apex Temple Court suites to life, to find out how you too can inject a little luxury into your own surroundings at home.
Here are some key tips you can take from her fabulous designs to create that feeling of luxury in your own space at home – because we all need somewhere to relax and unwind between staycations and holidays, right?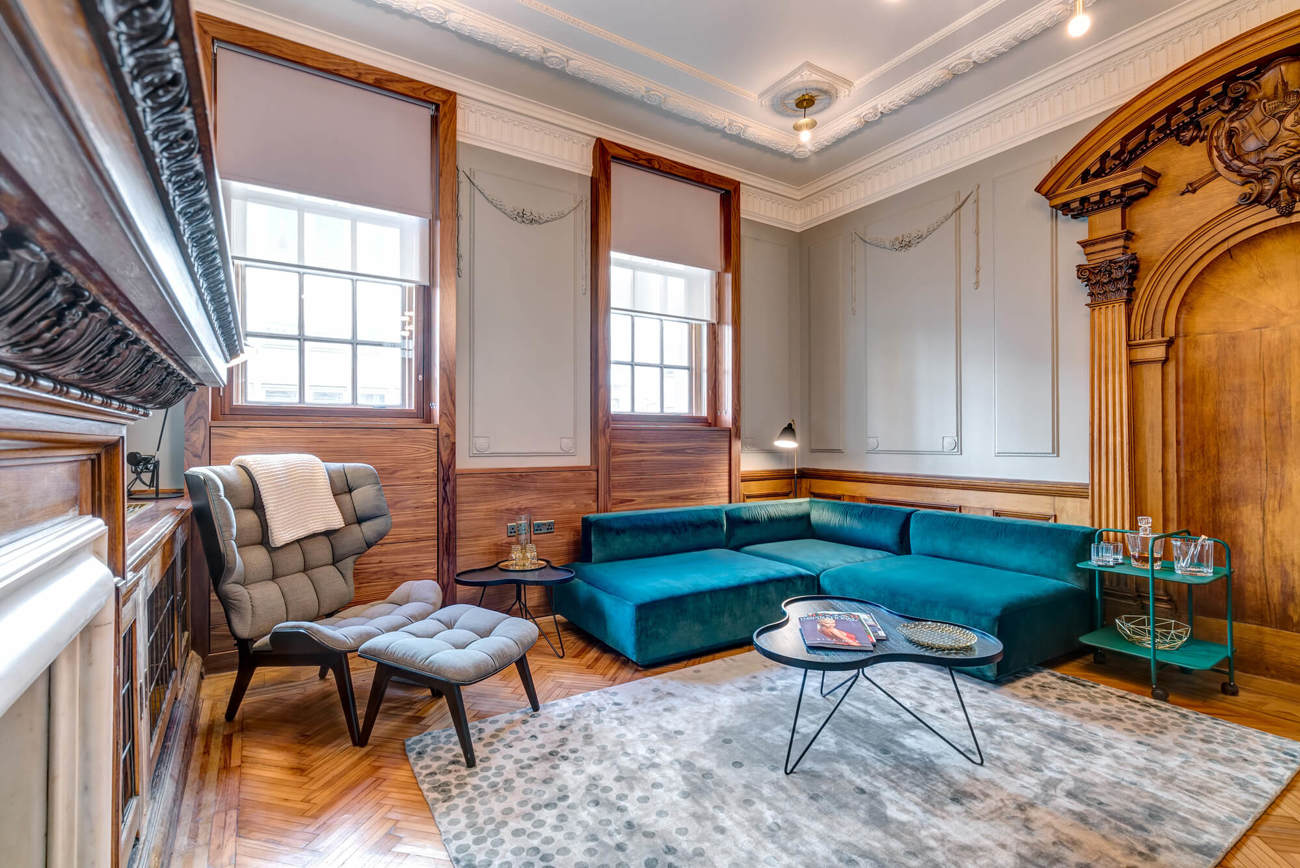 Scandi-chic
Emma tells us that the furnishings across all four Temple Suites and the main Grand Suite were all chosen for their Scandinavian feel. Scandi-chic is a staple interiors trend that isn't going anywhere soon, so selecting some key pieces that reflect the trend could be a good investment if you're looking to upgrade some of your existing furnishings.
And don't think for a second that 'Scandi' automatically means 'plain'. One look at the suites on Fleet Street gives a dramatic impact thanks to carefully selected statement pieces. Emma highlights chairs and chaise lounges in bold shapes that draw the eye and make a space truly pop. 
You can level up on the luxe look by choosing furnishings with a rich texture. Our suites feature sumptuous velvets and textured wools. And there are no shortage of affordable alternatives gracing high street furniture stores and online stockists, so you can ensure your spaces feature plenty of inviting texture to create comfortable surroundings.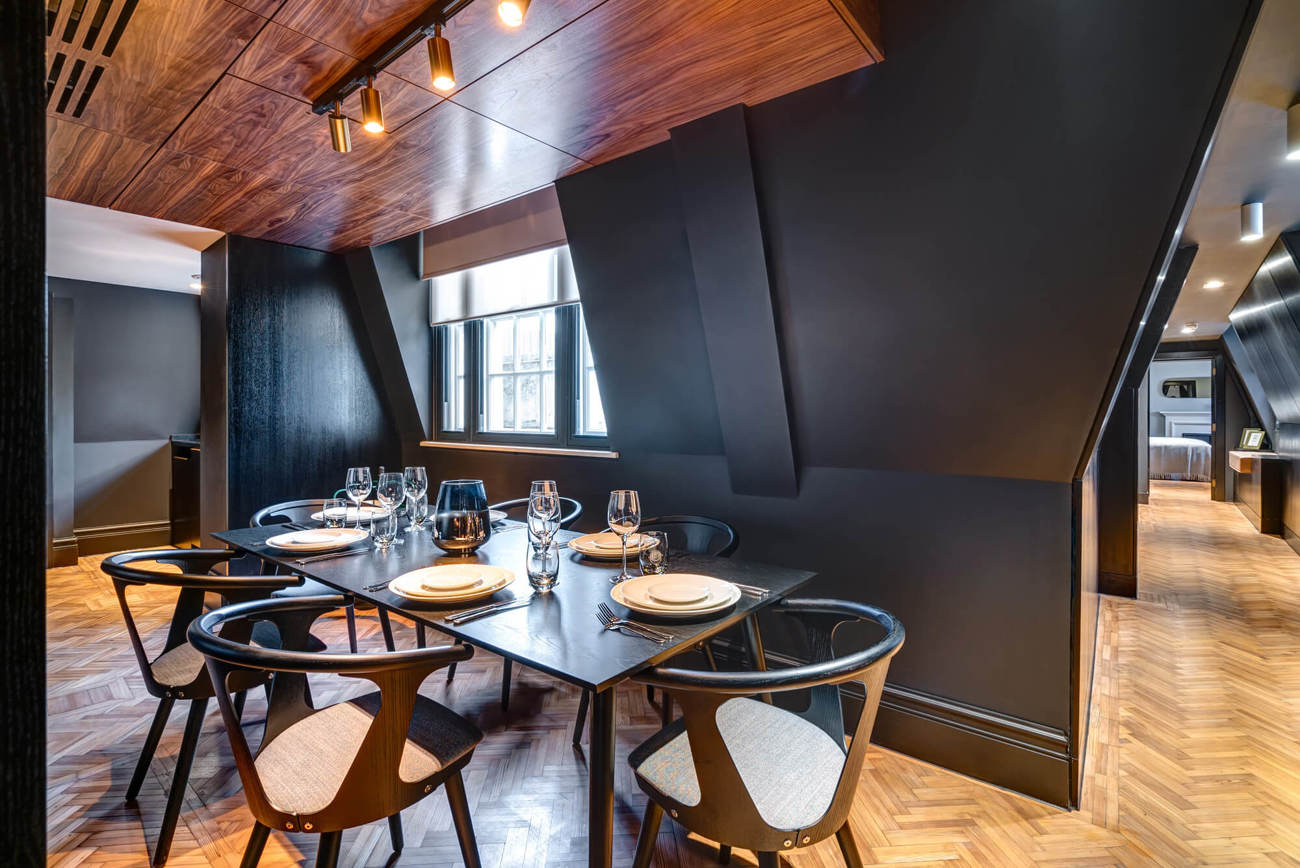 Go over to the dark side
Nothing makes a room feel more refreshed than a lick of paint – but many of us tend to default to more neutral tones, or just good old white emulsion, to brighten up a space as there's a little bit of fear when it comes to using darker tones.
Not only will a deep colour add a touch of drama, dark paint colours tend to look sophisticated and luxurious – think rich colours like navy, plum, deep green, and even black. And you can always satisfy the urge to try something new by creating a feature wall, so you don't have to commit to painting your entire room a dark colour, especially if it's a smaller space.
We're lucky that our suites are generously-sized, so you'll notice large wall sections cloaked in matte black finish – which balances really well with the existing wood wall panelling that was retained as part of the restoration (the part of the building that houses our suites is Grade II Listed and dates back to 1912).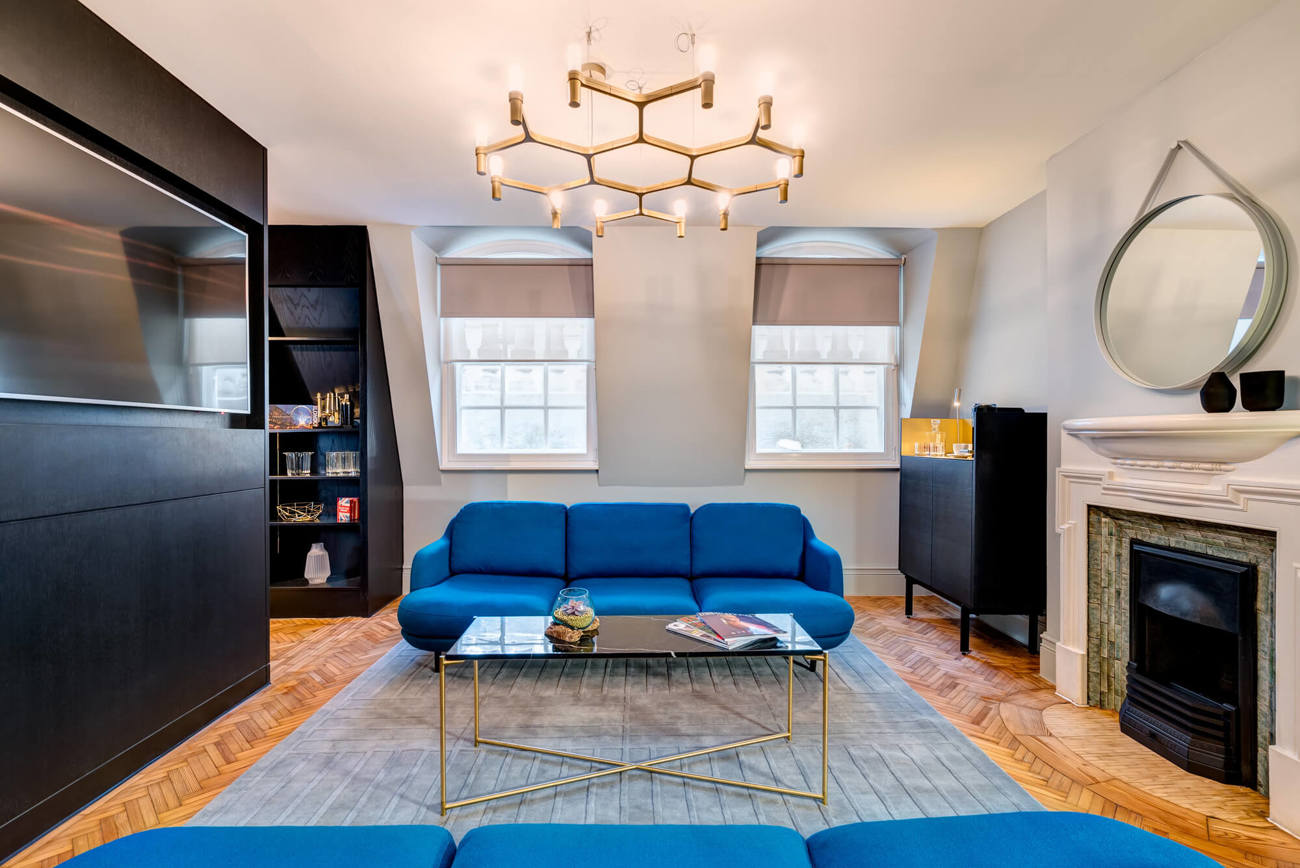 Add a pop of colour
You can complement a darker wall colour by adding flashes of other colour elsewhere – or choosing furnishings and accessories with striking metallic finishes to add some brightness.
Those rich, velvet textures we mentioned in the furnishes across our suites, were selected in some exceptionally rich jewel tones – like emerald green. So, as well as adding some colour, they also amp up the feeling of luxury.
Jewel tones tend to pair perfectly with metallic finishes, and you'll see across a range of stockists that examples of beautifully coloured velvet chairs, blanket boxes, and sofas featuring frames and fixtures in copper, rose gold and burnished silver.
And you don't have to buy brand new – if you have some fabulous furniture with wooden fittings but want to go with a metal-look finish, there are plenty of affordable metallic paints on the market that will allow you to transform your furniture in a flash.
All in the detail
Emma points out that, across the suites at Temple Court, the dressing of the room really takes the luxurious feel to the next level – and the devil is most certainly in the detail.
Pendant lighting takes centre stage in the bedrooms and lounges of our suites and can add a contemporary edge to a room. Even the tiniest of accessories are taken into consideration. From throws and blankets for additional layering and texture to complementary wall art and prints – and not forgetting candles, coffee table books, plants, and greenery – there are plenty of little ways to really lift a room into luxury.